Tell your boss how
you really feel.
OpenCompany lets you provide feedback to your boss anonymously. Answer some quick questions on your manager to get started
To view a sample of what your manager will receive click .
OpenCompany is committed to protecting your anonymity, read our .

Trusted by employees from: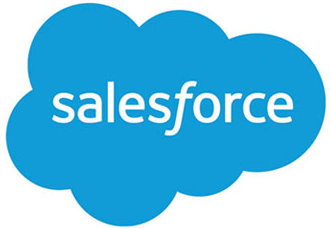 Are you a people manager? Collect Employee feedback. Anonymously.
OpenCompany is a culture management platform that helps companies measure, analyze,
compare, strengthen and optimize their organizational culture.
Sign Up
"We know that culture is organic, constantly evolving, reshaping, and reinventing. OpenCompany is helping organizations track and analyze key culture related data points and use it to their advantage."
Features
For Employees
OpenCompany allows employees to voice suggestions, share ideas, ask questions, and highlight concerns in a safe and anonymous environment.
We offer employees a safe place to provide constructive feedback on their organization without the fear of repercussions, judgment or ridicule.
How it works
Employees anonymously provide feedback to their direct manager and organization leaders through an anonymous messaging system
Employees anonymously post ideas, concerns and suggestions.
Employees anonymously vote up the ideas, concerns or suggestions they identify with.
Employees anonymously comment on any ideas, concerns, and suggestions.
Trending ideas, concerns and suggestions are sent to management each week.
Management can post responses, solutions and actions being taken.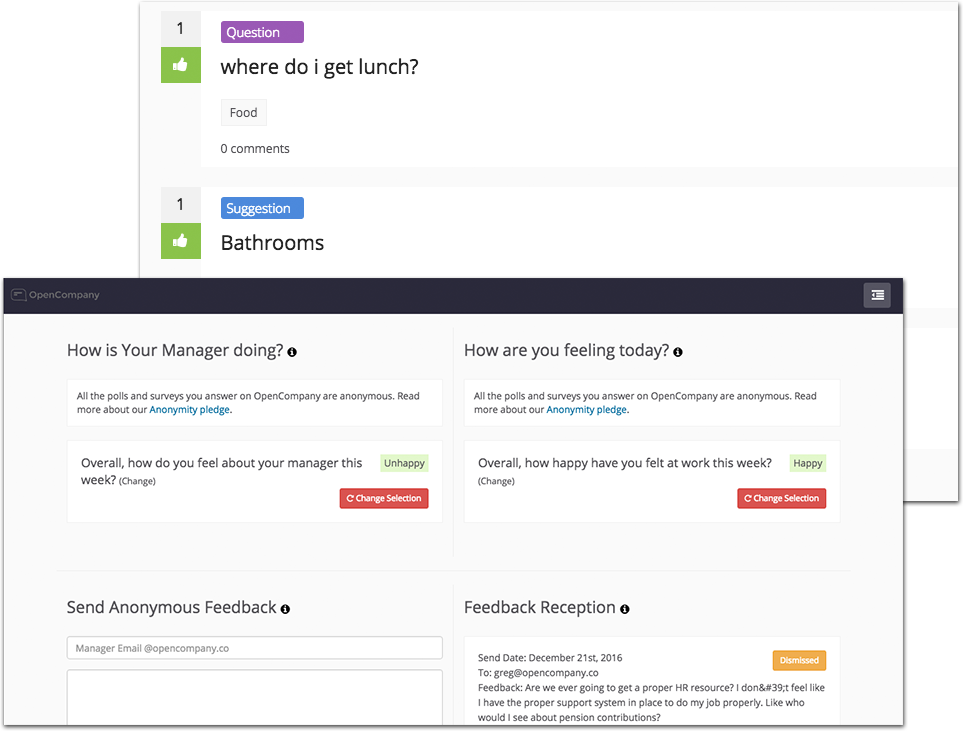 For Managers
OpenCompany culture analytics helps organizations surface actionable insights around your
culture and on your most important asset - your people.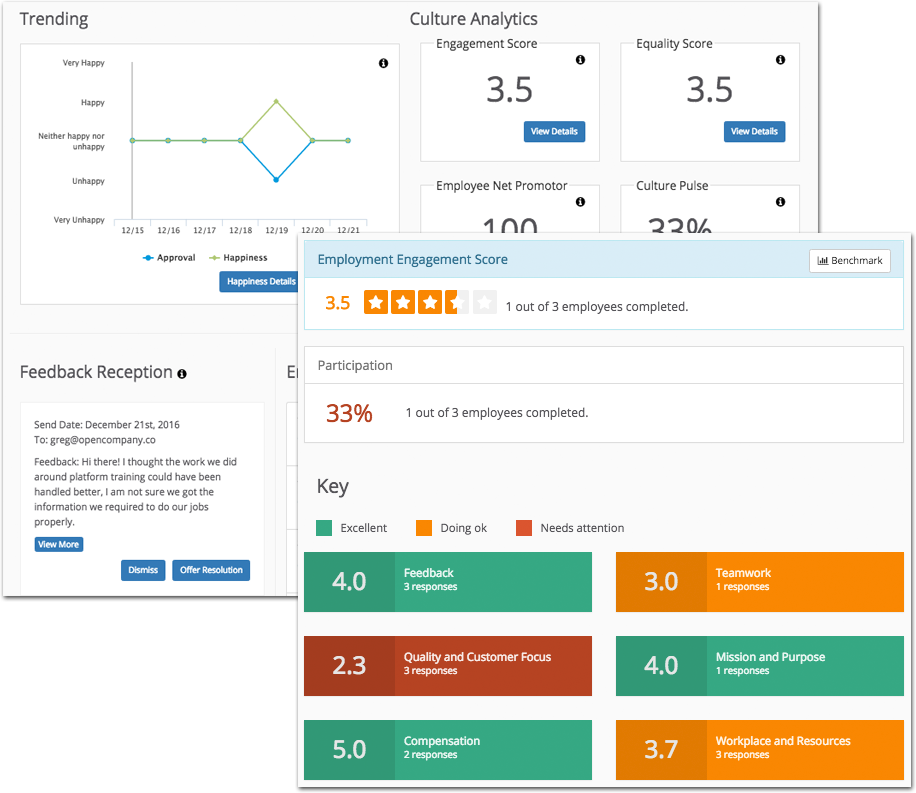 How it works
Direct managers and organization leaders can receive anonymous feedback from employees and communicate problem resolutions
Trigger our research based culture polls, touch points and surveys.
Employee Net Promoter Score
Equality Score
Employee Engagement Score
Happiness Score
Collect ongoing employee feedback (3 month cycles) to monitor trends, improvements, concerns.
Proactively measure, score, analyze and benchmark important culture metrics.
Harness the data to ensure you are in-tune with your employees, informing actionable decisions.